Yoga Therapy Certification
My Vinyasa Practice's Clinical Yoga Therapy Program is designed to bridge the gap between private yoga therapy and integrative medicine. Our program combines our foundations of Yoga Therapy with a practical Clinical Yoga Therapy program to give participants the ability to work seamlessly with health care staff and clinical healthcare teams in both professional and academic settings.
The Clinical Yoga Therapy program is a combination of our 550-hour foundations in Yoga Therapy course and advanced training courses which includes unpaid internships in our free online yoga therapy clinic and aid in job placement within the clinical healthcare field.
Our program is housed on the campus of ACC at Highland in our new studio and wellness center in Austin, TX.  My Vinyasa Practice is a donation-based Yoga and Yoga Therapy studio whose mission is to educate the population about the benefits of Yoga and the application of Yoga Therapy. 
Applicants are assigned to a cohort based on their application date. Applicants will apply and once their application is approved, their deposit will be collected and their payment plan will be initiated. Applicants have the option to select the standard payment plan or a lite payment plan that reduces the monthly cost while extending the term of payment. 
Payment Plan Options
There are two payment plan options featured in the chart below. Payment plan options break tuition payments up over a 24-month period.
Deposit (Due Upon Acceptance):
$500 Standard OR $250 Lite
Deposits and Tuition are non-refundable. Students have the option to put a higher deposit down for a lower monthly payment or a lower deposit down for a higher monthly payment. Payment plans are initiated on the 1st or 15th of each month. 
Enrollment Options
This training prepares you to work as a Certified Clinical Yoga Therapist within a care team of medical professionals. MVP Yoga Therapy School is a Member School with IAYT, and our Clinical Yoga Therapy program is accredited with IAYT.
The first module of our Clinical Yoga Therapy Certification fulfills the requirements to level up your registration with Yoga Alliance as a 500-hour RYT. 
Students enrolling with a 200-Hour Yoga Teacher Certification will enroll in Module 1 and be required to complete Modules 1, 2, and 3, costing $7,200. A $500 deposit is required to register you in the program and will be put toward the total cost.
Students enrolling with a 500-Hour Yoga Teacher Certification can transfer coursework from their 300-hour training. Students wishing to transfer coursework from a 300-hour training will have their transfer credits assessed against our Module 1 curriculum. Only coursework comparable to MVP's Module 1 curriculum/coursework will be accepted for transfer credits.  Potential trainees can transfer in up to 300 hours of comparable equivalent coursework and will be enrolled in the Clinical Yoga Therapy Bridge program along with Modules 2 & 3, costing $6,570. A $500 deposit is required to register you in the program and will be put toward the total cost.
Students who are enrolled in or have completed our Applied Yoga: Clinical Application of Hatha Yoga can transfer directly into Module 2 and 3, costing $4,700. A $500 deposit is required to enroll you in the program and will be put toward the total cost.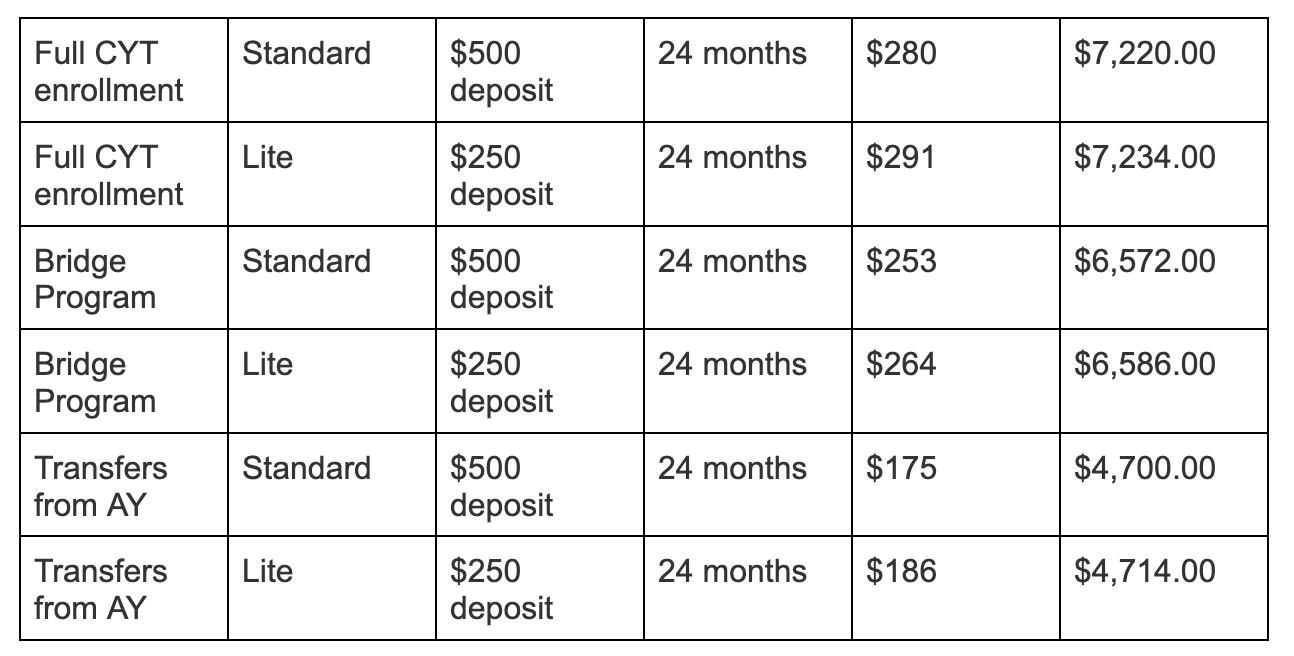 Our Clinical Yoga Therapy Certification certifies yoga therapists. Admissions to our program happen four times a year. Applicants looking to register in our Clinical Yoga Therapy program must possess a 200 hour teaching certification or its equivalent, have one year of experience in personal practice, and have one year of teaching experience. All applicants entering into training with a 200 hour certification will complete all of the following coursework. Our Clinical Yoga Therapy Certification is a complement to Western Medicine in clinical settings. 
We conduct Information Sessions about our Clinical Yoga Therapy program throughout the year.
Applications due: August 1, 2023
Orientation into the program: September 4, 2023 
Info Session: September 9th, 2023, 10 AM – 11 AM CDT
Applications due: October 16, 2023
Orientation into the program: November 3, 2023
See our Events Page to RSVP for the next Info Session
Subtle Bodies | 32 Hours
Take an in-depth look at the subtle bodies that make up the human experience. Learn how the Panchamaya Kosha system integrates with the Nadi system and parallels the meridians. Learn how the physical body is connected to the astral and causal bodies and how physical disease moves from subtle to the gross body.
Adaptive Yoga | 48 Hours
Learn how to adapt yoga to meet the needs of special populations. In this course, you will learn how to create functional sequences and protocols for students who have mobility issues, require seated support, are confined to wheelchairs, need special modifications, are blind, or deaf.
Trauma Informed Yoga | 40 Hours
Our trauma-informed yoga certification is both a required course in module 1 and an independent certification. In the trauma-informed yoga course, students learn the mechanisms of trauma and how trauma is stored in the body. You learn the process of pendulation, titration, and pratipaksha bhavana and how to integrate these tools into asana, pranayama, and meditation. Students who complete the program will leave with the confidence and tools to work with large groups and individuals who have experienced trauma and are looking to heal through yoga.
Ayurveda | 40 Hours
Our Ayurveda course teaches the history and foundations of Ayurveda, giving you appropriate knowledge of the sister science of yoga. Students will understand the tattvas, the tri-doshic system, the disease process, and the mechanisms of healing. This course is intended to provide foundational knowledge for personal and professional purposes.
Yoga Nidra | 40 Hours
Our Yoga Nidra course teaches the history, foundations, and applications of Yoga Nidra. Students will learn the mechanisms of the practice and how it works on the cognitive function of the mind. Students will be able to teach three unique styles of Yoga Nidra and will have the confidence to use this transformative tool with multiple populations.
Pranayama | 56 Hours
In this course, students will learn the mechanisms and effects of pranayama on the physical and energetic body as it relates to mental perception. Students will learn multiple types of pranayama, counterindications, and teaching methods. Students can expect to be comfortable teaching pranayama in various settings.
Yoga Therapy For Anxiety | 48 Hours
In this course, students will learn how to leverage the tools of asana, pranayama, and pratyahara to help clients find comfort and ease in the midst of symptoms of anxiety.
Mentorship | 30 Hours
In this course, you will have the opportunity to work one on one with one of our senior teaching staff to help you develop the skills and confidence to begin working in professional clinical settings. Your mentor will help you find a work environment that will give you clinical experience as well as experience working with people one on one. This course is taught by all staff and is ongoing.
Yoga For Recovery | 56 Hours
In this course, students learn how to leverage the tools of yoga to help clients who are working through addiction. This course prepares students to work in group settings as well as one on one with clients.
Biology of Yoga | 52 Hours
In this course, students learn the biological mechanisms found in the Nadi system and how to leverage these mechanisms to improve the energetic function of the pranamaya kosha. Students will have a clinical understanding of how medication is processed through the Nadis and how it affects various organ systems in the body.
Psychology of Yoga | 56 Hours
Students will learn the psychological mechanisms of the brainstem, midbrain, and frontal lobe and how they respond chemically and behaviorally to trauma, interpersonal conflict, environmental stress, and grief. Students will learn practical tools to hold space for clients in clinical settings while maintaining professional integrity and scope of work.
Meridians and Marmas | 56 Hours
Students will learn about the meridians in the body and thoroughly understand how the marma points influence them. Students will learn how to incorporate the meridians of the body and the marma points into asana and pranayama practices designed to initiate change in the body.
Sound Healing | 56 Hours
Students will learn how frequency affects the Pancha Maya kosha system and how to use sound devices to influence and retune subtle frequencies in the body. Students will understand how these frequencies relate to the chakra system and how they can be used to foster balance in clients.
Group Yoga Therapy | 56 Hours
In this course, students will learn how to work with groups in clinical settings and alongside psychologists, social workers, and physicians. Students will learn how to complete SOAP notes and how to create the individual protocol.
Yoga Therapy for Memory Loss | 56 Hours
In this training, students will learn how to work with clients experiencing memory loss from traumatic brain injury or dementia and Alzheimers. Students will learn bilateral techniques to help create new neurological pathways designed to strengthen their clients' physical and cognitive abilities.
Yoga Therapy Interventions | 56 Hours
In this course, students will learn how to use yoga as a therapeutic intervention. Students will learn how to assess their clients, how to create a comprehensive care plan for their clients, and how to monitor progress over time.
Pre and Post Operative Interventions | 40 Hours
Understand and possess knowledge of common pathologies requiring surgical intervention. Understand the mechanisms that manifest the pathologies within the body including general wear and tear on structural components of the body, bone loss and disk degeneration, muscular degeneration, and accidental damage. Understand how to develop practical care plans for individuals preparing for surgery or for those in recovery. Understand the Yoga Therapists scope of work in the physical rehabilitation process. 
Yoga Therapy Module Three
Module 3 | 150 Hours
In Module 3, students have the option to work within our Online Yoga Therapy Clinic which is open to all MVP students across the world, or to be placed in an internship at a healthcare facility that reflects the speciality the yoga therapist-in-training is interested in working within at their place of residence if one is available.
Contact us for More Information