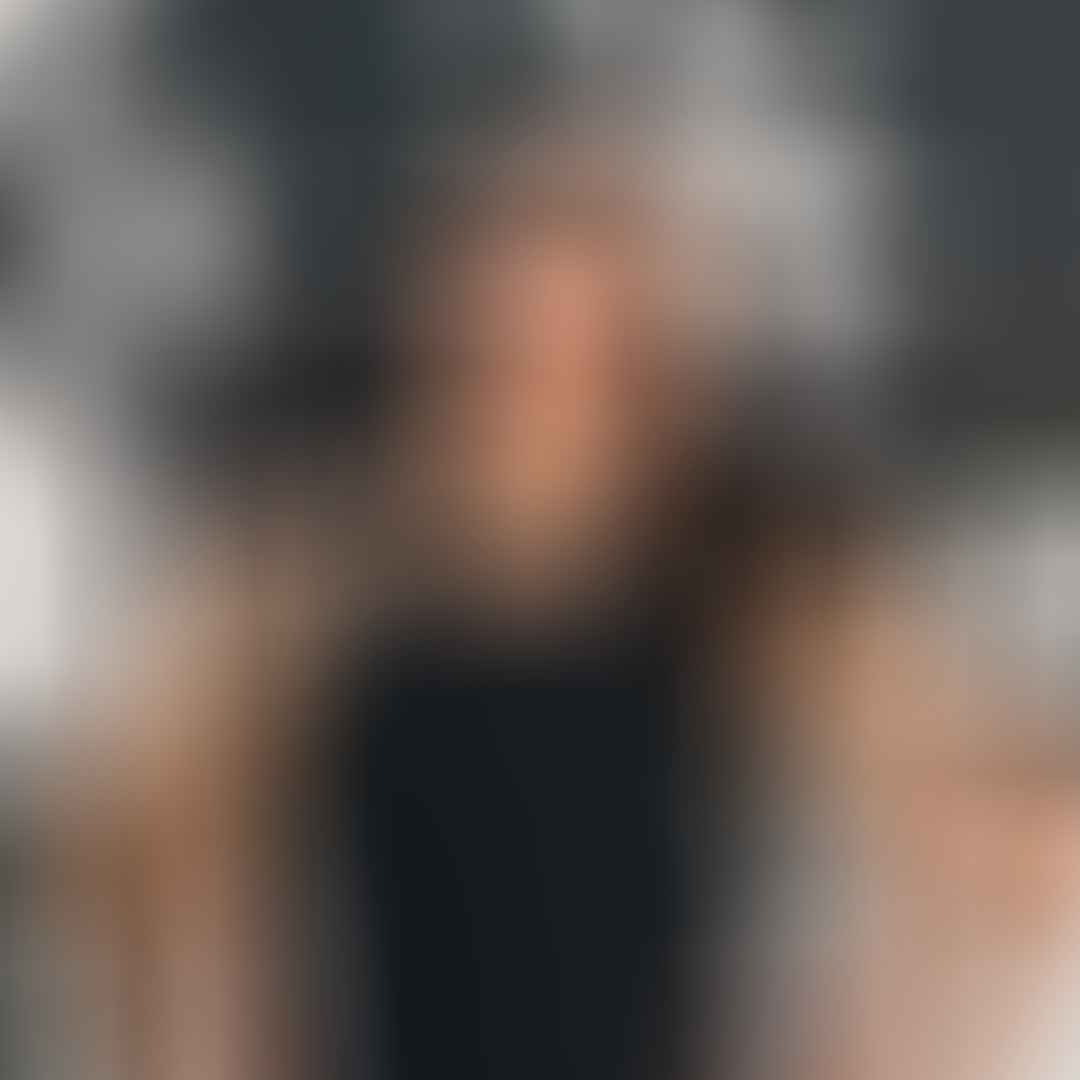 Michelle Young
Michelle started practicing meditation in 1988 and yoga in 2004. She originally studied yoga under Shanti Kelley and went on to study with Nischala Joy Devi, Richard Miller and Leslie Kaminoff at the Soul of Yoga in Encinitas, CA. Michelle is an E-RYT 500 with Yoga Alliance, and a C-IAYT Yoga Therapist specializing in eating recovery, cardiac and cancer rehabilitation. Michelle currently serves Seton Hospital as their Cardiac Yoga Therapist and develops and leads teacher training internationally.
Michelle's vinyasa classes are empowering and focus on stability in the major joint systems while carefully providing students with a projection free environment for self-exploration. Michelle practices nonduality and believes that each experience is an opportunity to awaken to the subtle qualities of Self Realization.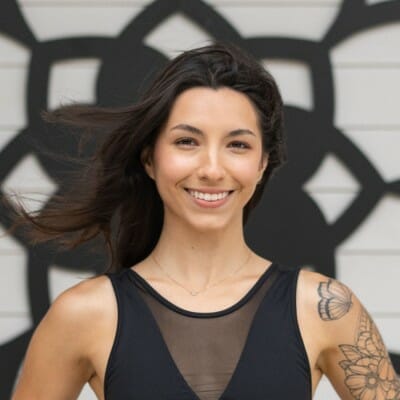 Kiana Ochoa
Kiana is a dedicated yoga teacher and General Studio Manager for MVP. Kiana is passionate about bringing yoga to the community and creating a welcoming environment for all practitioners. She is committed to expanding her knowledge of yoga and sharing this sacred practice with others. She completed her first 200-hour yoga teacher training from the Tantric traditions of Sri Vidya and lineage of Swami Rama with her teachers Shannon Buffington and Charly Faukner, and has since accumulated over 800 hours of additional training and thousands of hours of teaching experience. Kiana strives to empower her students to cultivate mindfulness, self-awareness, and inner peace by exploring intentional movement, yogic philosophy, and energetics on the mat.
Tara Cleven
Tara has been a yoga practitioner for over a decade. She found My Vinyasa Practice and went through both the 200 hour and 300 hour yoga teacher training programs. Tara is an avid practitioner who loves a good power yoga class. Tara teaches Vinyasa, Yin, Restorative and Power classes.
ANA PILAR CRUZ
Ana Pilar Cruz, C-IAYT, E-RYT 500, RYT 200, has been teaching yoga in Austin, Texas since 2001 and has been training yoga teachers since 2006 at both 200 and 500 hour levels in the United States and abroad with Yoga Yoga, Global Yoga Shala, and Zingara Yoga. She has been studying with her teacher, Gary Kraftsow, the founder & head of the American Viniyoga Institute, for over 16 years. Under the guidance of Kraftsow, Ana Pilar completed the American Viniyoga Institute's 500-hour advanced training in 2005. Her continuing education is immersed in a number of specialized areas, including Western & Yogic Anatomy, Injury Prevention, Stress-relief, Mantra chanting, and Tantric philosophy, as she studies with the likes of Leslie Kaminoff, Srivatsa Ramaswami, Donna Farhi, Rod Stryker, and Dr. Douglas Brooks. In 2017 Ana Pilar was grandfathered into the International Association of Yoga Therapist, receiving her C-IAYT designation in recognition of her specialized client work in adaptive structural therapeutics. As a senior teacher trainer she excels in teaching asana, pranayama, mantra, and yogic philosophy & literature.
In 2017 Ana Pilar was grandfathered into the International Association of Yoga Therapists, receiving her C-IAYT designation in recognition of her specialized client work in adaptive structural therapeutics.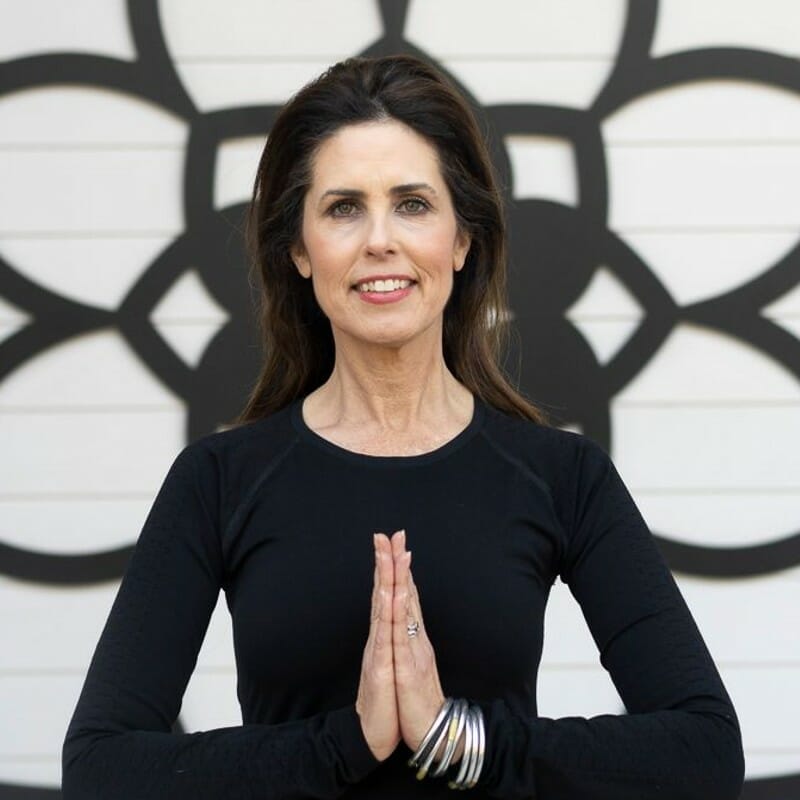 Ali Kamas
Exercise has always been part of Ali's life but once introduced to yoga she was immediately hooked. After suffering from a health crisis, she began exploring yoga therapy as a solution. After practicing asana (posture), pranayama (breath) and meditation her pain, fatigue, and brain fog began to subside. Now with a clearer head, healthier body and little pain she wants to share the healing power of yoga to her clients. Ali is a 500 hour Registered Yoga Teacher and specializes in breath-centered asana in gentle, healing, restorative yoga. Ali is a certified IAYT Yoga Therapist.
Stephany Mesa
Stephany is a Latin X Yogi who feels confident there is a place for all on the mat. After completing her RYT 200 with MVP, Stephany joined as MVP's Chief Operating Officer. Working closely with the MVP team in uplifting Collective Consciousness, Stephany is committed to becoming a forever student of Yogic Philosophy. An avid student working towards her 300-HR training, she enjoys all styles of Asana, including Vinyasa, Yin, Restorative, and Gentle Flow.
JULIA STEMPKO
Julia has been practicing Yoga and Meditation for over a decade and has been a student of Eastern spirituality and philosophy for almost 20 years. After completing her 200hr YTT, she went on to complete her advanced 300hr training through My Vinyasa Practice, and continues to enjoy the ongoing learning opportunities MVP provides. Julia specializes in teaching alignment based asana, meditation, manifestation, holistic well-being, and philosophy, all of which show up in her projection free, uplifting classes.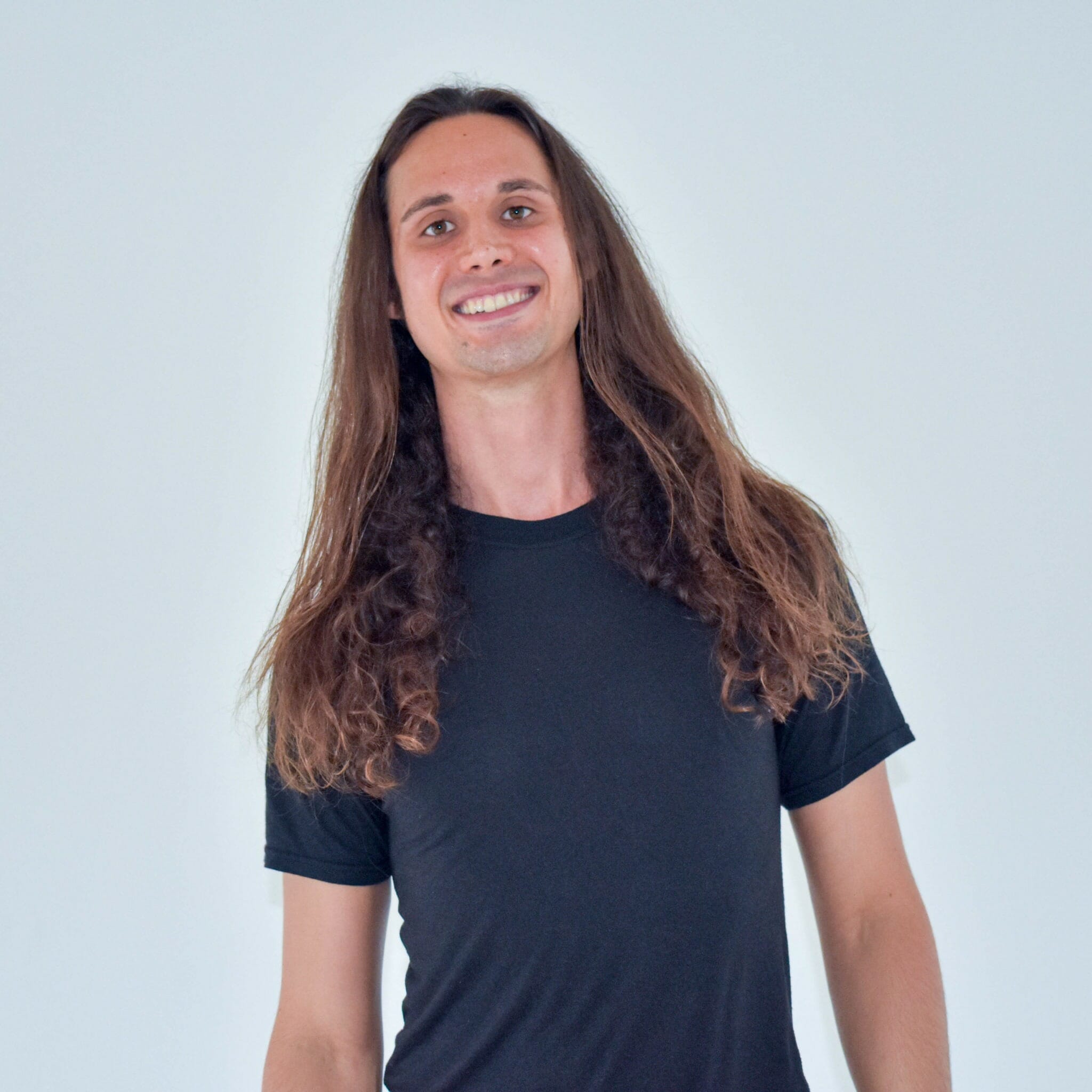 Kyler Burk
Kyler has been practicing yoga and energy healing for several years and enjoys diving deep into philosophy. Kyler finished his 200 and 300 hour advanced training with My Vinyasa Practice. Kyler teaches a strong and deliberate Vinyasa flow that is appropriate for all levels of practitioners.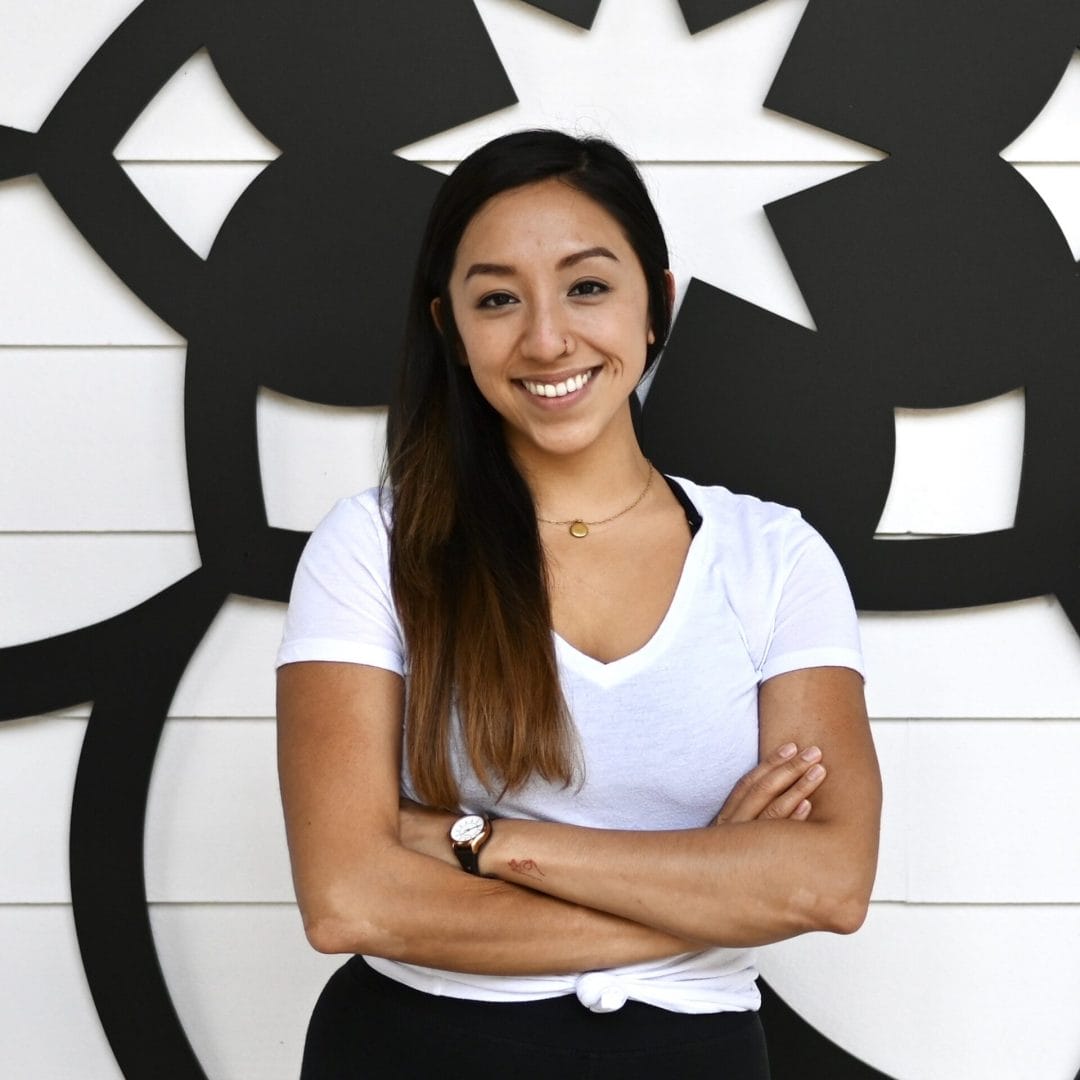 KRISTIANA CASTILLO VUONG
Kristiana first came to yoga after moving to Austin to attend college. From the start she got far more from the practice than a workout. Though she was first drawn to the intensity of power classes, she now enjoys the structure of Ashtanga and the ease of a gentle flow.
She completed her 200hr YTT and began teaching in local studios full time. Her classes focus on intention setting, breath and moving meditation.
Leti Alvarez
Leti began her yoga journey years ago and has remained deeply committed to living her yoga. Leti's playful teaching style reflects her personality, but also her deep desire to support her students exactly where they are. She offers empowering classes that encourage students to explore and connect with their authentic self. Her goal is for students to find their own teacher within and to intuit what is right for their body.
Leti is an E-RYT-500 and loves to share tidbits about the Hindu Deities, anatomy or a quote in her classes. She caters to students of all levels and ensures that everyone feels welcome and comfortable. Her students can expect a challenging, upbeat flow set to carefully selected music. Using the Universal Principles of Alignment, her classes will be safe and leave you with a feel good glow. Leti has been fortunate to study with many influential teachers all of whom have had an impact on her practice. She is also very connected to the community doing a lot of Seva work in order to give back to others.
Leti loves yoga for all its transformative powers – physical and spiritual – and emphatically knows yoga will always be a part of her life and states "It is my medicine". Leti is an International Retreat leader, teacher trainer and passionate about life, love and yoga!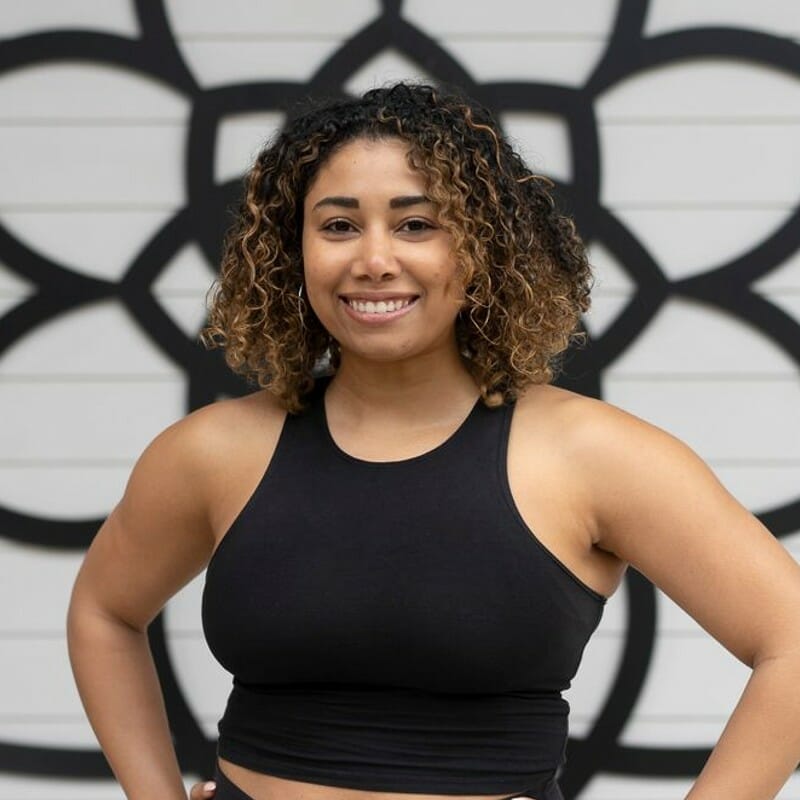 VANISHA WEATHERSPOON
Vanisha is a native of Killeen, TX, but began her yoga journey when she began taking classes in Austin after making her way there for school/ work. Her love for yoga truly developed when she began law school in Washington, DC. Law students are at heightened risk for alcoholism, drug abuse, anxiety and depression, so she looked to yoga to help her avoid falling victim to one of the former. It was here on her yoga mat where she discovered true happiness and peace, which led her to want to bring this to her law school community, but also others. She completed both her 200hr and 300hr YTT with MVP and has been teaching ever since. Vanisha enjoys power vinyasa style flows and loves getting into a good arm balance.
Rasha Proctor
Rasha is a 500 hours yoga teacher certified in Vinyasa, Sivananda and Yoga Nidra. She is in the process of completing her Vajra Yoga certification and 2nd year of Yoga therapy. Rasha started her yoga and meditation practices in 2000 and in 2005, she took a year off to travel and study the origins of yoga. During that time, she spent four months at Sivananda Ashram in Southern India, followed by a two-month silent meditation retreat in Nepal at Kopan Buddhist Monastery. Since then, Rasha has become a devoted practitioner as well as an advocate and a certified teacher of yoga and meditation as paths for healing.
Jen Deatley
Jenifer received her 200-hour teacher training from My Vinyasa Practice and has been sharing her love of yoga asana at MVP through her Vinyasa classes. When she's not on the mat, she is busy being a mom of two and working with the Sustainable Food Center to bring more equity to the food system. As a licensed social worker, she teaches from a place of support and intentionality, recognizing that each one of us shows up with a unique intention each day. Jenifer also teaches kids yoga utilizing her own curriculum Yoga and Mindfulness for Kids.
Alyssa Clark
Alyssa loves sharing the joy and power of yoga with anyone at any stage in life or practice. She's been a practitioner for over a decade and is an RYT-200. As a lifelong lover of learning, she continues to study the science and philosophy of yoga. Alyssa's Vinyasa classes are fun, creative, and welcoming – and she can guarantee a killer playlist, too.
MARISSA STEPHANI-RESNICK
Marissa is local to the Fivetwo Austin community and recently moved here from New York with her fiancé Marc and their kitty cat called Chicken. Marissa is a 200 HR YTT MVP Alumni and is pursuing further education through MVP's 300 HR YTT and Entrepreneur trainings.
Jess Deskins
Jess has been a yoga practitioner for over a decade and is so happy to be sharing her love of yoga with the Austin community. You can expect to find focus on breath and mind body connection in Jess' classes, as well as a good playlist. Jess completed her 200 hour training at My Vinyasa Practice and is always looking to learn more about the practice of yoga so she can spread that knowledge to her students.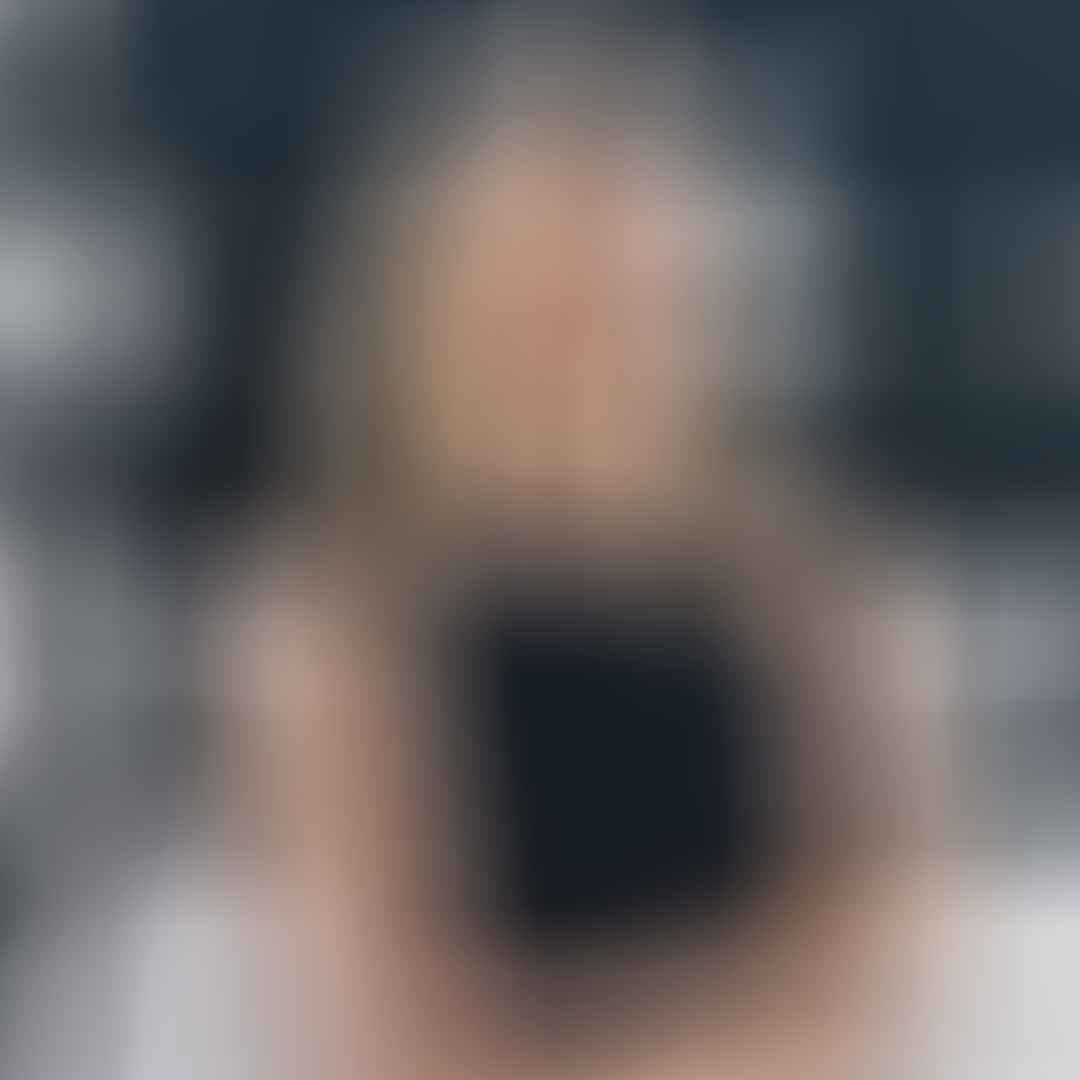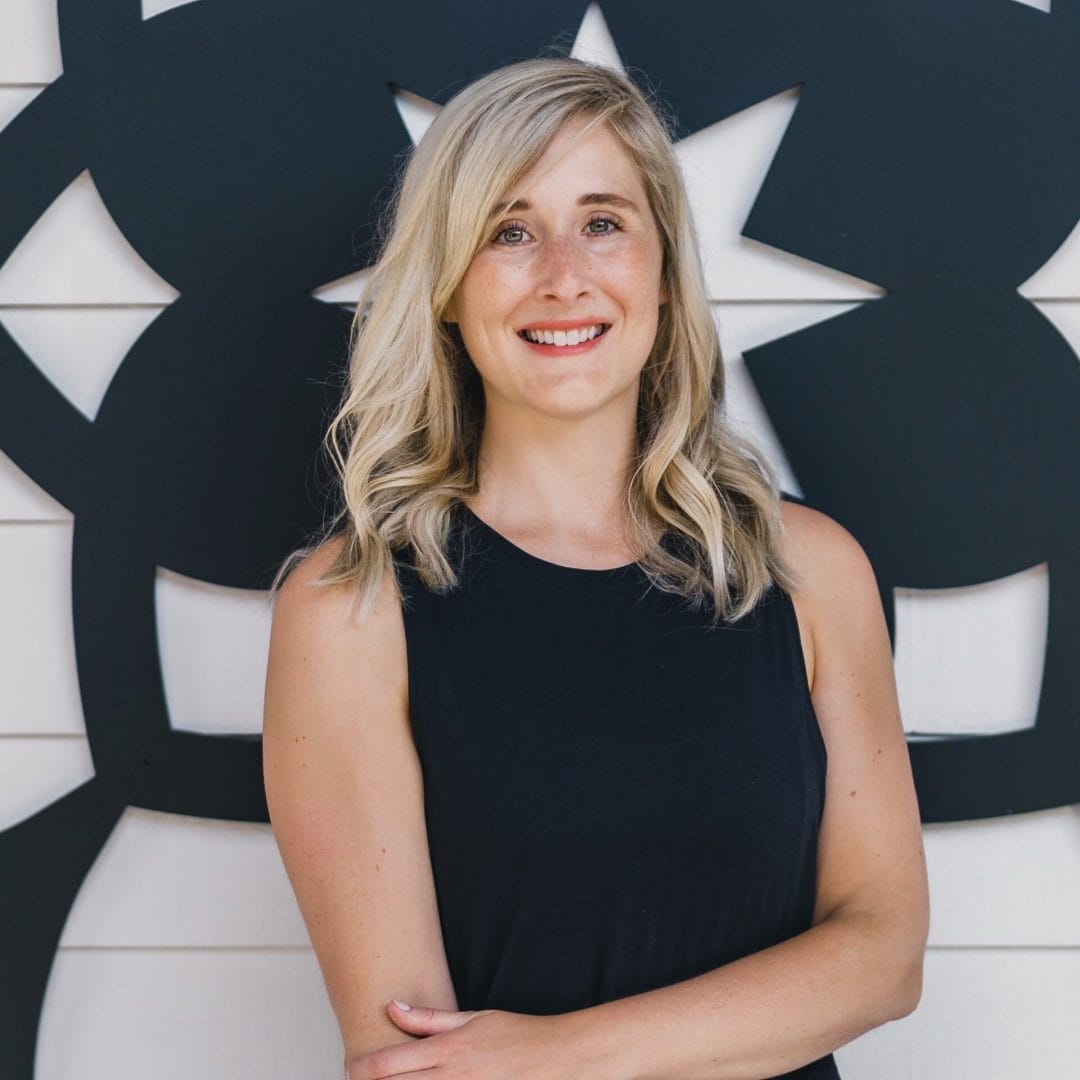 Jen Ireland
Jen has been practicing yoga for over a decade and earned her 200 hour RYT certification from My Vinyasa Practice. She has practiced at studios all over Austin and loves a good Vinyasa or Yin class. She started practicing yoga to build strength and learn how to better channel her inner peace and drishti. Using yoga to decompress from the stresses in life and get the body moving, Jen enjoys teaching vinyasa classes at a moderate pace, perfect for all levels. She currently teaches vinyasa flow in the virtual studio as she travels around the country to be with family.
Miguel Castillo
Miguel is a yoga and meditation teacher local to the Austin area. He was first introduced to contemplative practices and the energetic body in 2001 while attending a buddhist monastery over the summer. After this experience his curiosity for self inquiry was ignited and he spent years exploring various practices & philosophies. He now utilizes his background in gastronomy and healthcare integrated with meditation, Ayurvedic cooking and yogic principles to approach health and wellness.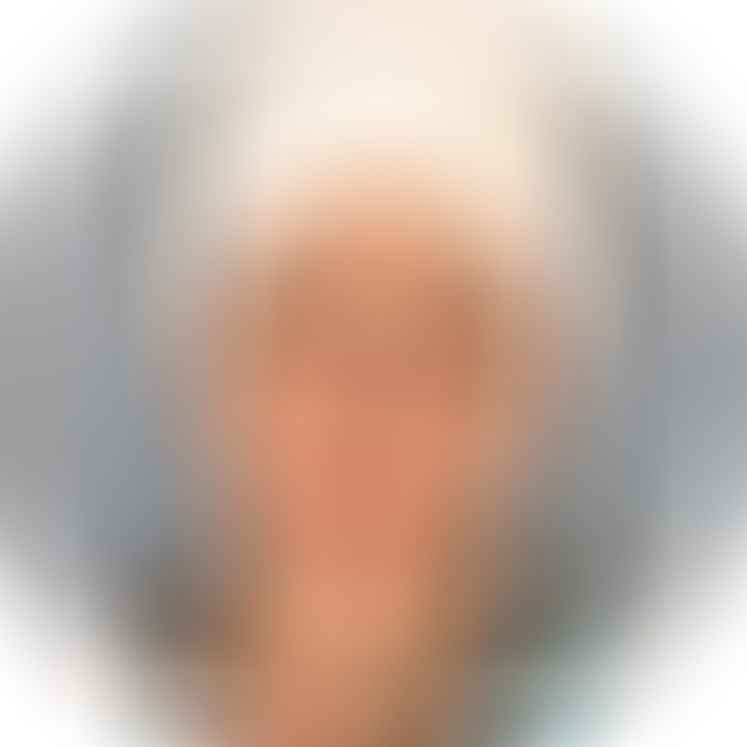 Tina Hilbert
By her 20's, the back and neck pain had become intense. Tina's quality of life was diminishing, and so was her range of motion. She was diagnosed with spondylolisthesis of the lumbar spine, spondylosis (degeneration), spinal stenosis, and lordosis. Yoga has healed her body, mind, and spirit. Tina have been active in the holistic alternative community of healing modalities for over 22 years. She is certified with the International Association of Yoga Therapists (C-IAYT), an Experienced-Registered Yoga Teacher 500 (E-RYT 500), Yoga Alliance Continued Education Provider (YACEP) and MVP Lead Trainer. She also holds a Level 3 Original Hot Yoga Association (OHYA) teacher standing. Tina has completed six yoga teacher certifications to broaden her scope of practice. She will teach and practice yoga for as long as she can breathe! Her offerings are Yoga Therapy, Colon Hydrotherapy, Reiki, Thai Yoga, Holistic Nutrition, Meditation/Yoga Nidra, and Mindfulness Coaching.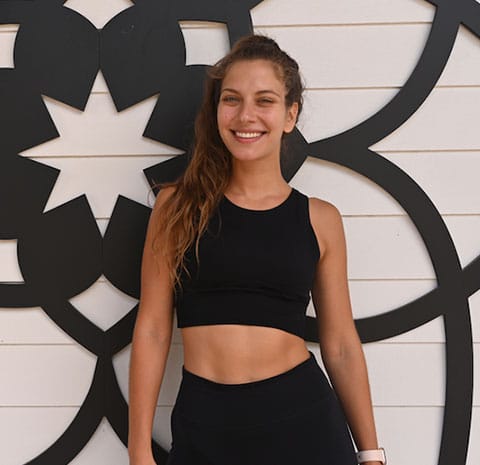 MELENA KIRIAKI
Melena is a licensed Meditation & Mindfulness Teacher, RYT 200 & is currently a trainee with MVP's 300-hr. She teaches vinyasa and slower, gentle flows—intentionally associating breath with movement, cultivating self-love, and celebrating accessible body empowerment throughout her sessions.
Melena's yoga practice and lifestyle blossomed after she came into a deep, consistent meditation practice that benefitted her mental and emotional life in transformative ways. This generated a passion in sharing the practice of meditation to all: particularly kids & teens, through in-person, live virtual, and an upcoming new mindfulness online course curriculum. Melena is a graduate from the University of Texas at Austin, working in Big Tech where she's a global leader for the Mindfulness@ Club at Facebook. She loves the Austin skyline, espresso, and her Maltipoo king, Oreo.
Amy Fueling
Amy began her yoga journey in her late 20's through asana. Practicing in a local studio in Wisconsin, she began developing a deeper connection and awareness with her practice that flowed into her everyday life. Upon relocating to Austin she joined the MVP community, completed their 200 hour teacher training, and has been teaching with them since.
Amy enjoys a mindful vinyasa, staying in sync with the breath, but also likes bringing balance and strength to her practice both on and off the mat. Outside of the studio, Amy can often be found on her paddle board, hiking, camping, or reading.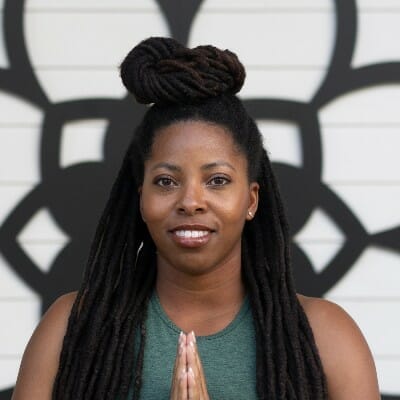 Adrienne Garman
Through yoga Adrienne aims to help you feel calm and connected to the present moment and your body. She hopes you feel happier, and more alive after flowing through class with her. Adrienne is a Minnesota native and has been living in Austin for the past 8 years, where she gained her Yoga Certification under Michelle Young at My Vinyasa Practice. During the day Adrienne works in Bio-Tech and on call as a Community Doula. She is an avid yoga practitioner, and had her first class in 2006 on the gorgeous beaches of St. Croix. Adrienne is a life-long learner, and has thoroughly enjoyed the journey of living an increasingly richer life. Join her to release some stress, move your body, and have some fun.
Kaytee Hernandez
Kaytee Hernandez (she/her) is a Latinx Yoga Therapist, Yoga Teacher, and Childrens Yoga Teacher with a passion for holistic health and wellbeing. Yoga has been a transformative and healing journey for Kaytee. The tools she has learned have helped her digest trauma, grief, and loss, and fall in love with life again.
She hopes to guide others toward their inner healer through Yoga and Ayurveda. She holds her E-RYT 500, RCYT, and YACEP with Yoga Alliance and is a Certified Yoga Therapist, C-IAYT, serving children and adults. Kaytee is currently attending Maharishi International University and is working towards her M.S. in Ayurveda and Integrative Medicine.
Kaytee offers public and private Yoga classes, Yoga therapy, workshops, lectures, and trainings in Austin, Texas and online. She has authored two online programs with My Vinyasa Practice, Yoga for Parents and Families and 95 Hour Childrens Yoga Certification.
Xenia Hennington
A friend first introduced Xenia to Kundalini Yoga when she was in her mid-twenties looking for some form of physical activity for her stiff and inactive body. Unable to formulate an opinion after taking the first class, she took another class, and then another, and another. Not only did she get the exercise she sought, but she soon discovered the chronic pain she had for 14 years began to diminish and then disappear altogether. In her life, she found calmness and patience in situations that normally frustrated her, tolerance where she was used to feeling anger, and focus and efficiency amid harried deadlines. Xenia discovered that the practices of Kundalini, Ashtanga and Vinyasa yoga filled her with a sense of vitality and connection never felt before.
With an open heart, Xenia shares her experiences so that others might also live more fully within each moment. Xenia has been a yoga and meditation practitioner for over 2 decades, teaching and training students in Texas and Louisiana since 2003. As an E-RYT 500 and YACEP with Yoga Alliance, thousands of hours of teaching experience, and hundreds of hours in continuing education Xenia bridges the benefits of yoga and meditation with everyday life using the breath and sound to further facilitate the body, mind and spirit towards healing, grace, and ease.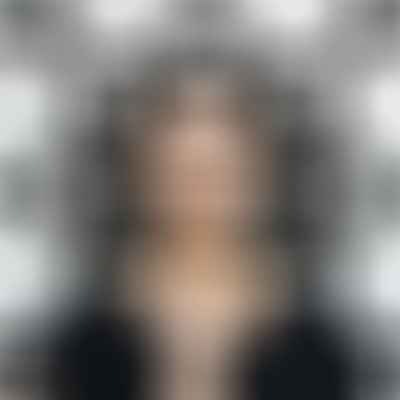 Lara Ramey
Lara has been a student of Yoga since 2009, and overtime has continued to appreciate and have a passion for the more contemplative aspects of the practice. She received her 200 hour certification in 2017 from Journey Om Yoga, completed her 300 hour certification in 2020 through My Vinyasa Practice (MVP), and is nearing the completion of MVP's Yoga Therapy program.
Lara has taught group classes at studios, colleges, fitness centers and social clubs, and has co-led events for city recreation departments. She sees clients on a private and semi-private basis as a way of guiding individuals towards integrating Yoga into their daily lives. Lara is also a Level 2 Usui Reiki practitioner and enjoys blending energy work into her work with Yoga.
You can expect a variety of Yogic practices within Lara's classes including gentle to moderate movement, pranayama (breathwork), meditation, and philosophical inquiry. Most importantly, Lara welcomes ALL to practice with her, allowing for adaptability and the freedom to meet each student where they are.
When Lara isn't teaching or working, she's connecting with loved ones, reading, and exploring Austin with her partner and new puppy.
Danielle nezer