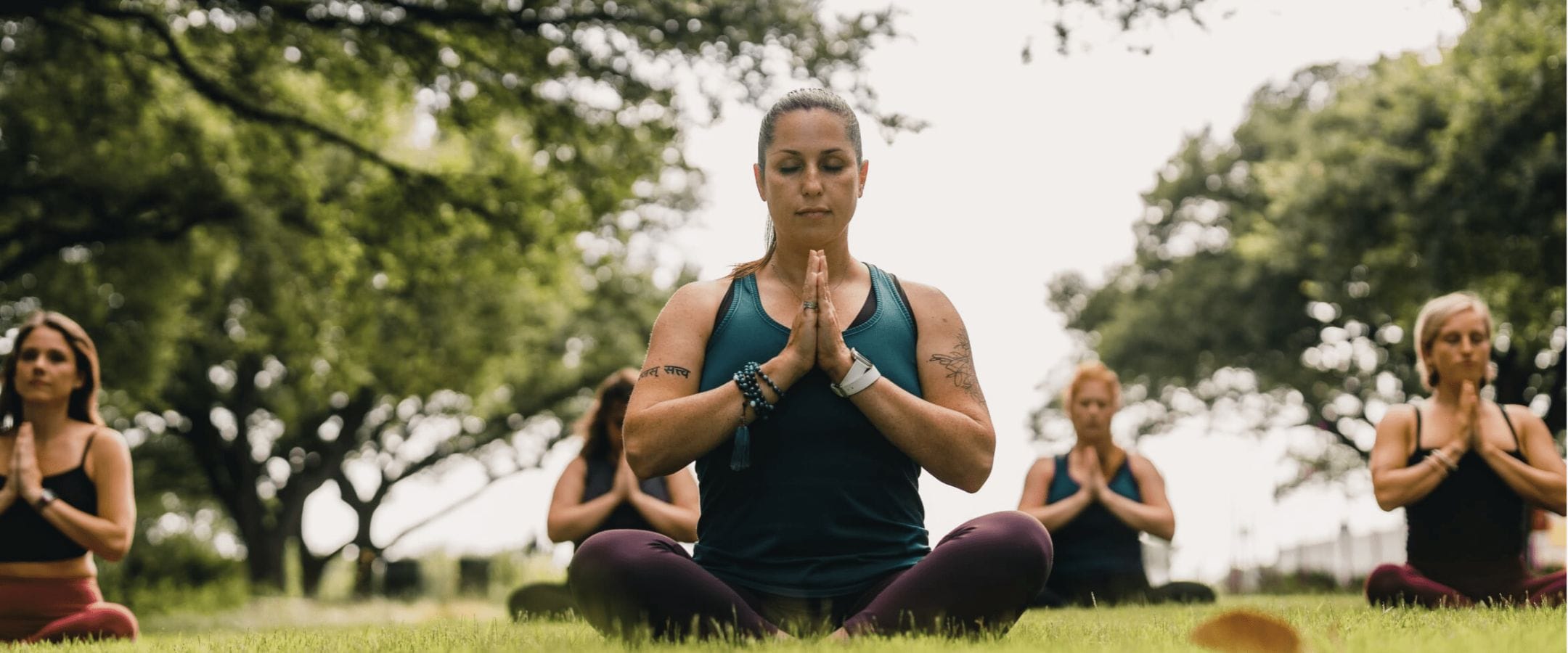 Interested in becoming a yoga teacher online? Yoga Alliance approved online training is here to stay, at least through 2021. In March of 2020, Yoga Alliance initiated a temporary provision for online learning that was designed to help brick-and-mortar yoga studios weather the storm and stay afloat during these uncertain times. As time went on, it became clear that COVID-19 wasn't going anywhere, and yoga as we knew it would change as a result. After months of back and forth, Yoga Alliance approved online training when they announced this past Friday that they are allowing the facilitation of online training through 2021; thus, opening the door for a flood of online yoga teacher training in the market. Although it's not clear how this will impact the yoga community moving forward it's apparent that yoga teacher training is at the forefront of many yogis minds.
At first, many seasoned teachers didn't know if online yoga teacher training was going to offer adequate training. Some brick-and-mortar studios worried that online training would devalue traditional in-person training. Overnight social media saw a flood of ads for yoga teacher training ranging from $1 to $4,500, and what was once out of reach for many became more accessible and equitable for the masses. This influx of online yoga teacher training options created a new paradigm in the yoga industry that we're just starting to unpack as a community.
Prior to the current pandemic, yoga teacher training was inaccessible for many practitioners because of the hefty price tag or the lengthy time commitment. Now, with the plethora of online options, yoga teacher training is truly accessible to the masses. As an RYS and an Accreditated Yoga Therapy School, we've used the past six months as an opportunity to refine our existing online training and diversify our community and content. Before COVID-19 we had both online and in-person training available to students. Having existing online training put us in a position to transition from in-person to online yoga teacher training seamlessly. We spent several years working out the bugs associated with online facilitation prior to COVID-19, and Yoga Alliance's temporary provision allowed us to marry our online training with our in-person training to create a truly unique experiential training accessible to all.
Ranked the top online yoga teacher training by Mind Is The Master, our 200-hour and 300-hour trainings have been evolving to meet the needs of students throughout this pandemic. Our 200-hour and 300-hour yoga teacher training includes live zoom sessions, prerecorded lectures, podcasts, guided meditations, a Livestream studio membership, and one on one access to lead trainers and peer support. We've created an infrastructure that supports students as they move through training while maintaining the integrity and commitment to excellence that people have come to expect from Yoga Schools affiliated with Yoga Alliance. We've been able to do all of this while providing new and exciting opportunities for yoga teachers to teach digitally. Creating an interactive community online while maintaining the affordability and authenticity of our training has been challenging. We've had to put our ego aside and return to our values time and time again.
Authenticity, accessibility, and affordability are the foundation of our business model and our training. As student requests and feedback comes in, we continue to ask ourselves if the suggestions will improve the accessibility of our training while maintaining the authenticity our students have come to expect. When students asked for study groups, office hours, book clubs, or other opportunities for community connection we've responded swiftly to meet their needs. We continue to add video content, live Zoom opportunities, and community forums to foster connections among students. These efforts have not gone unnoticed and over the past six months, our 200-hour and 300-hour yoga teacher training has become the best online yoga teacher training internationally.  Already certified?  Check out our article on tips on how to teach yoga internationally.  
We continue to look for new ways to professionalize the yoga industry while creating jobs in a market that is largely inaccessible for many. At MVP we teach our teachers in training to cultivate profitable careers teaching yoga in a variety of different formats. This ensures that our teachers have a wide breadth of experience and can adapt to the changing landscape of the health and wellness industry. We've also responded to the Black Lives Matter Movement in radical ways. We've initiated MVP diversity chapters nationwide, whose focus is to educate their local communities through local activities and events sponsored by MVP directly. We've integrated diversity and inclusion training into our 200, 300, and Yoga Therapy programs so that teachers graduating from MVP are prepared to support D&I initiatives, and we've continued to have the hard conversations that need to happen.
This year has been challenging, but it has also been rewarding. Appropriate stress is required to insight real change. Rather than feeling backed into a corner, we've looked at COVID-19, and all of the experiences that came with it, as an opportunity to change the narrative around yoga teacher training. Yoga teacher training, and the ancient wisdom teachings found within it, are part of our DNA. This information, these practices, should be accessible to everyone. We have to remember that no one person "owns" yoga, and all beings deserve to be healthy, happy, and free of suffering. If the secrets, practices, and philosophy contained in yoga teacher training provides that kind of liberation then we have a duty to humanity to make it accessible. We've heard some students say that they were skeptical about our training due to its affordability. Every time someone shares their initial thoughts it's always followed by overwhelming gratitude for the thorough and well-developed YTT we facilitated.  We're committed to continuing to offer accessible and affordable training taught by real teachers, who are really in practice, and who live their yoga.
~Michelle