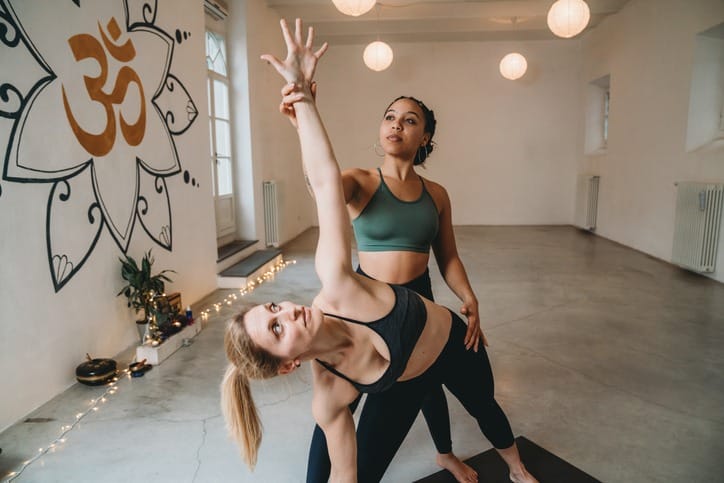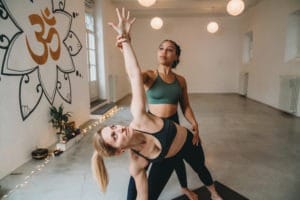 Becoming a yoga instructor used to be a distant fantasy for most people. The cost of training and the time it took to immerse yourself in yoga for 200 hours was insurmountable for many. Due to these hurdles, very few people could access quality training to fulfill their dream. Now that Yoga Alliance initiated a temporary provision to online learning, yoga teacher training is more accessible and affordable than ever. In this article, we'll explore how to become a yoga instructor online as well as what happens once you obtain your certification.
Becoming A Yoga Instructor Online
Today, it's easy to become a yoga instructor online for less than the price of a used automobile. For as little as a few hundred dollars, you can get a quality education in yogic philosophy, anatomy, and physiology, methods, and techniques. Although it might appear to be easy to obtain your yoga teacher certification, there are some things to consider. 
It takes time to complete training, whether it's online or in-person. Many people think online yoga teacher training is a shortcut to earning credentials, but in all actuality, it requires a lot of determination and personal drive to dedicate the time and attention to your practice and studies. Students who lack intrinsic motivation may find it more difficult to finish online training than in-person yoga teacher training. If you need more support and one-on-one guidance, select an online yoga school that mimics in-person yoga instructor training with live instruction. 
Pre-recorded content is great, but live instruction helps online yoga teacher training feel more synchronous and helps students connect both to the teacher and to one another. It's best to have a mix of pre-recorded content and live content to make sure students have access to multiple modalities of instructional content. Some schools offer Zoom sessions where instructors are present to answer questions, but this doesn't always suffice as instructional content. If you need extra support, make sure you find an online yoga school that provides live lectures where students have the opportunity to ask questions about the content they are learning in real-time. 
Another thing to consider is what you're looking to gain from yoga teacher training. Are you looking to teach, or do you want to deepen your practice and expand your knowledge? Online yoga teacher training can help you achieve either goal and is an excellent way to learn in an isolated setting without the distractions of other students. That said, peer interaction is important whether or not you want to be a yoga teacher. Programs that offer live lectures, community events, online yoga classes, and other opportunities for community connection will support you as you learn about yourself and how to hold space as a teacher. 
If you're looking to teach, you will want to complete all the certification requirements to make sure you receive your certification. The school you are enrolled in will certify you. Technically, there is no certification body for yoga. Yoga Alliance is a registry where schools, RYS (registered yoga schools), train teachers to be eligible to register with Yoga Alliance as an RYT, (registered yoga teacher). In order to register with Yoga Alliance, you must complete training with a school that is registered with Yoga Alliance. You'll receive your certificate and then you will present your certificate to Yoga Alliance and pay your yearly dues to become a member. It's important to note, you do not have to register with Yoga Alliance as an RYT to be eligible to teach yoga. Many studios ask that you register with YA but it's not required by local or federal law. 
Finding The Best Online Yoga Teacher Training
Now that you've decided to take the plunge into online yoga teacher training, there are a few things to consider. First, look at the curriculum and make sure that it's comprehensive. Yoga Alliance requires very specific content for the 200-hour ytt. In order for schools to be eligible to register with Yoga Alliance, they must include all the required content in Yoga Alliance's standards. This includes philosophy, history, anatomy and physiology, asana, pranayama, pratyahara, lifestyle, and business content. Any school that is registered with Yoga Alliance must teach these core competencies. Some schools divorce the philosophy from their training and only teach anatomy; these schools are not following the guidelines Yoga Alliance has set out in their standards. A quality school will break out the content in multiple places on their website and they will be fully transparent with their teaching philosophy. 
Next, consider how much face time you'll be able to have with lead trainers. There are many trainings that offer pre-recorded content, but this is not considered best practice. The most effective way to teach adult learners online is to incorporate a mixture of live, recorded, and interactive content while also providing access to lead trainers and support staff. You should be able to make appointments with support staff or lead trainers without additional fees. If the online yoga school does not offer this feature or is unresponsive, you may want to consider a school that has these features built into its training. 
Consider the online yoga school's certification requirements. If they are not asking to see you teach or review your sequences with personal feedback, then you're not getting the same attention that you would if you were in person. There are online yoga schools that do not require video submissions or written sequences and students ultimately suffer because they don't get the feedback they need to grow and improve. 
The best online yoga teacher training will have multiple modes of communication and will meet each student where they are in their process. Virtual yoga teacher training can be as thorough and supportive as in-person yoga teacher training when there is appropriate support. An online yoga school that provides layers of support in real-time facilitates the best online yoga teacher training. 
Online yoga schools with excellent online programs usually offer live yoga classes, too. Some schools offer this as a benefit to students for a short period of time to see if the student benefits from this service, and some offer online yoga classes as a long-term benefit. If you were taking yoga teacher training in person, you may or may not get a reduced studio membership, but you would most likely have access to studio classes. Online yoga schools that go above and beyond by offering live yoga classes online really facilitate the best online yoga teacher training. 
Finally, determine what style of yoga you want to teach and select a school that is supportive of that style. My Vinyasa Practice is ranked as the best vinyasa yoga teacher training online, but our program wouldn't be appropriate for someone who wants to be certified in Kundalini Yoga. If you're looking for the best online Hatha yoga teacher training, make sure the yoga school you select specializes in Hatha Yoga. There are so many styles of yoga and different methods of teaching; it's important to make sure that the online ytt you select will teach you the proper techniques for the style you are most interested in teaching. 
In Conclusion
Online yoga teacher certification courses are a dime a dozen these days, but not all online ytt courses are equal. Do your research and find out what the school does to support its students. Make sure that the online yoga school you select teaches the style of yoga you're interested in and they are committed to supporting their students. Read Yoga Alliance reviews, if Yoga Alliance is important to you; these reviews are unbiased and only students who have graduated from training and registered with Yoga Alliance can give reviews. These reviews are the most accurate and showcase both pros and cons of the school you are investigating. Look for transparency. If the school hides the comments, something isn't right. Comments add weight and context to the rating left by the student and can sometimes explain why a student felt the way they did after training. Schools with 5-star ratings may seem attractive, but remember that even the best online yoga teacher training will not be right for everyone. If the yoga school doesn't have any constructive criticism, then it's possible that the ratings are skewed. 
At the end of the day, the best thing you can do when selecting a virtual yoga teacher training is to call the school and ask questions. Talk to a real person and make sure that the school is a good fit for you and your unique experience.