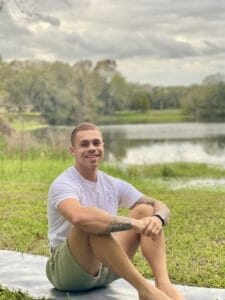 This month we are getting to know MVP Student Alan Torres!
MVP: Tell us a bit about you
Alan: Hello everyone, my name is Alan Torres and I'm originally from Cleveland, Ohio. At the age of 18, I enlisted in the U.S. Army as an Artilleryman, where I served four honorable years that included one combat tour overseas. After my time in the military, I moved to Tampa, FL where I've lived for the past two and a half years with my fiancée Lorena and my two dogs: Lola & Cooper. This past year, I decided to follow my passion of helping others through wellness and earned my diploma in personal training while simultaneously achieving my 200-Hour YTT. I am now the owner and operator of Oscar Mike Yoga & Training LLC; a mobile fitness coaching service that integrates the practice of yoga with resistance training to create a holistic approach to fitness! In my spare time I enjoy lifting weights, playing golf, and spending time with nature.
MVP: How did you get into Yoga?
Alan: Growing up in Cleveland, I was a big Cavaliers fan, and when I was 17, I came across a video of a few of our star players practicing yoga together. They explained how they integrated yoga as a means of improving their in-game skills and focus as well as their overall wellness. Hearing male role models speak of yoga in this way was shocking to me, since up until that point in my life, I was only aware of the stereotype that men didn't do yoga. This video motivated me to attend a few classes at my local gym, and soon after, I joined the Army, where I took about a 4 year hiatus from yoga. After separating from the military, I struggled to adapt to civilian life, and battled with mental health. I tried various methods to assist my recovery, but it wasn't until I tapped back into my yoga practice that I saw real change within myself. I fell in love with how much I was learning about myself through yoga and how the lessons I received on the mat were helping me in every area off of it.
MVP: What are your go-to asana modifications to make a class more accessible?
Alan: In my classes, I am constantly reminding my students that the practice is theirs and that there are no rules as to what one can and can't do when it comes to making a practice more "them." I love giving the students autonomy by reminding them that I am only a guide, and that they are the ones who truly understand what works for them in their practice; so, props, changing an asana, or even leaving it out entirely and doing something else is always encouraged.
MVP: How do you practice Yoga off the mat?
Alan: One of the ways I practice yoga off the mat is with my relationships with others. I'm constantly rediscovering and applying the same compassion and kindness I show myself on the mat into my relationships with others, whether it be a loved one, a student, or a stranger.
MVP: Do you have a favorite mantra?
Alan: My favorite mantra is actually a quote I received from Michelle during my training with My Vinyasa Practice that had to do with identifying limiting beliefs which is the universal truth of: "I am a divine being, having a human experience." I use this mantra daily and whenever I experience moments of adversity to remind myself who I am and why I'm here.
MVP: Website and/or social media page you want to spotlight
Alan: You can find me on Instagram at my personal page at @coachalantorres
Thank you for sharing your practice with us, Alan!
Also checkout on November Student of the Month