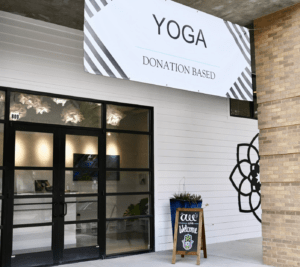 Finding Yoga Teacher Training In Austin
So you've decided that you want to be a yoga teacher, or maybe you want to deepen your practice. The next step, finding the best yoga teacher training in your area. If you live in Austin, you know there are so many studios to choose from. In this article, we're going to break down the things to consider when you are investing in yoga teacher training, and we're going to look at some of the top yoga teacher training in Austin, TX. 
Qualities Of An Excellent Yoga Teacher Training
When you're looking for an outstanding yoga teacher training, you want to look for a yoga school that embodies transparency, accessibility, community, and authenticity. You may wonder what any of that means; let's explore each quality and consider how it impacts your experience in yoga teacher training. 
Transparency equals trust. When someone is transparent, they show you they have nothing to hide. When people pretend to be something that they are not, they lack transparency. This is extremely problematic in the yoga industry. A good deal of yoga programs hire yoga instructors to lead their yoga teacher training without properly training them to facilitate educational content. Quite simply, a yoga teacher is not a teacher unless they have been trained to teach. Add the complexity of teaching adult learners, and you might go a step further and say that a yoga teacher is not a "teacher" unless they have been trained to facilitate adult education. 
Just because someone is an E-RYT 500 does not mean they are qualified to teach adults to teach yoga. In fact, if they have not had any training in pedagogy, they are nothing more than an actor or actress. The best yoga teacher training is facilitated by yoga teachers who were professional teachers in a former career, or who have advanced degrees in education, curriculum development, and academic instruction. One way this shows up in yoga teacher training is when "senior teachers" undermine students' questions with aloof egoist philosophical anecdotes. It should never be about the teacher; rather, the teacher is holding space for the student's learning. Teachers who have professionally trained to facilitate core curriculum understand how to witness their ego, set it aside, and meet the needs of the student. 
Transparency is also a hallmark of humility. A 200 hour YTT should not be an egocentric experience. If the teacher facilitating training is in practice, they will come to students full of compassion, reverence, and a humble heart. This leads directly to the quality of accessibility. 
Accessibility supports adult learning because it gives the students access to the resources and information they need. You can't put a price on knowledge, and the information taught in yoga teacher training does not belong to anyone. If the school you are considering is charging outrageous prices or if they are claiming ownership of a "unique" method of teaching yoga, then you can bet they are not living through the lens of accessibility. When we make the ancient wisdom teachings of yoga accessible to everyone, we are uplifting the collective consciousness. When we make it accessible to a few, we are perpetuating the narrative of limiting beliefs and separation. 
Separation binds us in suffering. Yoga teaches us about this through the lens of the kleshas, or the veils of separation. The best yoga teacher training will offer multiple opportunities for connection in the community. Some practitioners like to practice in-person, some online, some like to foster a home practice, and some like to study with a teacher. Select a yoga school that provides you with multiple options for community without additional financial expense. 
There are a handful of studios in Austin that offer in-person and online community support, in addition to unlimited connection to lead trainers, studio owners, and support staff. These are your best bets when looking for yoga teacher training. If you wanted to study in isolation, you could take an online yoga teacher training or a virtual yoga course, but if you want to study in person, there is an element of community that you are likely seeking. Do due diligence to make sure the yoga school you select provides you with options.
Finally, look for a yoga school that is authentic. Authenticity means the school, its trainers, and its community are committed to coming clean, without personal projection, to support others in their practice. Most practitioners are not looking for a yoga teacher who is an actress; they want someone who is a real teacher; someone who will share information and experience unconditionally. Remember, it doesn't matter what or who the teacher is leading a training. The only thing that matters is that they are authentically sharing accurate information in an accessible way that students can internalize, retain, and apply. 
What Yoga Teacher Trainings Are The Best In Austin, TX?
If you're looking for the best yoga teacher training in Austin, TX, you might consider researching My Vinyasa Practice, Sukha Yoga Austin, & B-Free. Out of all the yoga schools in Austin, TX, these three schools embody the qualities necessary to be the best yoga teacher training in Central Texas. 
My Vinyasa Practice ranked as the best online yoga teacher training certification internationally, offering 200 hour, 300 hour, and IAYT Yoga Therapy trainings in Austin, TX. My Vinyasa Practice has been affiliated with Yoga Alliance since 2016 and IAYT (the International Association Of Yoga Therapy) since 2020. The founder and lead trainer, Michelle Young, achieved her M.Ed in Curriculum Development in 2011 and has been writing and facilitating adult curriculum for over ten years. My Vinyasa Practice has many free community offerings that students can participate in to see if the school's philosophy and teaching methodology are a good fit. Potential students can take free in-studio classes or they can sign up for a free online course like MVP's 30 Day Total Transformation Challenge or Yoga Therapy For Anxiety. MVP also has free community offerings in their live stream studio. 
Sukha Yoga Austin also offers a phenomenal 200, 300, and Meditation Training that is affiliated with Yoga Alliance. Erin Lewis, Sukha's founder and lead trainer, is a knowledgeable E-RYT and Yoga Therapist who commits to making meditation and contemplative practices accessible for all. Sukha Yoga Austin is located in South Lamar and offers a variety of options for students looking for training.
B-Free Yoga, in Austin, TX, and is also an excellent option if you're looking for training and a supportive yoga community. Shelby Autrey is the owner and founder of B-Free and, together with Leah Cullis, she offers dynamic yoga teacher training designed to empower and integrate yoga into each teacher's life. B-Free also offers several community opportunities to connect and see if this yoga school is right for you. 
If these options don't meet your needs, check out Practice Yoga Austin, Studio Satya, or Dharma Yoga Austin. All three studios offer stellar yoga teacher training and amazingly supportive communities. 
Regardless of which Austin yoga studio you choose, you'll be in good hands. Yoga teacher training in Austin, TX can range from $1,400 to $3,000, which is why it's important to know what you're getting into. Ultimately, you should also consider where you practice. Taking training from a studio you practice at can ultimately be the most fulfilling thing of all because you already feel at home. If you don't have a yoga home, check out all the studios in Austin before making your decision. With so many options, you are sure to find the best yoga studio to suit your needs.