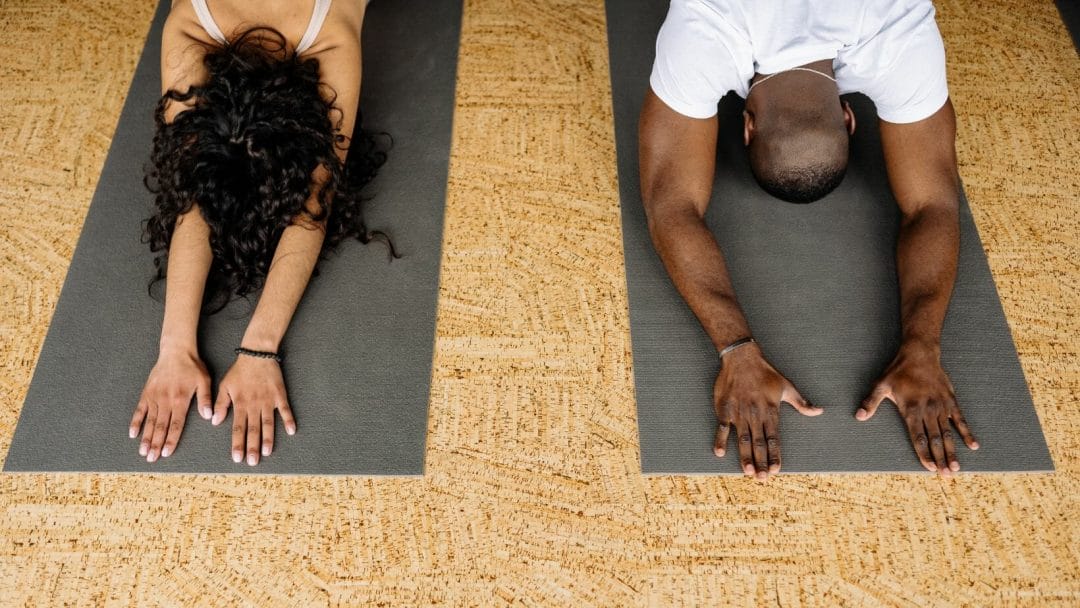 Restorative yoga is a practice dedicated to learning the art of rest. It is a slow, grounding, and quiet practice that can help support healing trauma, facilitate release, and allow the practitioner to rest. When we sequence a restorative yoga class there are a few important things to keep in mind:
Access to yoga props
Grounding poses
Space for stillness and silence
When we begin to build our restorative sequence, we want to do so with props in mind. Common props we use in a restorative class are bolsters, blocks, blankets, straps, and sandbags. Each prop we include in our practice provides support in the ways of lifting, cushioning, stabilizing, and grounding. As we transition through each shape, we want to be sure that students can visually see how to arrange the props so that they can settle into a restful state in each pose, as well as ways they can modify by adding or reducing props from their setup depending on what feels most supportive to them.
Another important area of focus when we're creating a restorative sequence is the type of shapes we're choosing. Restorative poses are both grounding and passive so that we can feel safe as we settle into restful stillness. When choosing grounding poses, this means that we aren't including any standing asanas. Instead, we choose postures that are low to the ground – supine, prone, and seated. When we arrange props in such a way that is supportive for rest and stillness, we ensure that the shape we are in is passive and does not require any work or cause any sensation to arise.
In comparison to a Vinyasa yoga sequence, the passive and grounded poses that we choose for our restorative practice support the mind and body easing into a state of relaxation, healing, and recovery. From here we can bring attention to the third area of focus when sequencing a restorative class, which is to incorporate and hold space for stillness and silence – two important qualities that support rest.
It isn't uncommon for students to settle comfortably into their supported poses, and find that their mind is still quite active. When we allow time and space in silence, we give students the opportunity to move through their experience in each shape. Time and patience are often doorways we have to walk through many times in order to practice the art of stillness and allowing the mind to settle. In order to create an environment where students feel they can rest both their body and mind, restorative classes often won't have a theme or intention outside of simply dedicating time and practice to resting.
As yoga instructors and space holders, we hold the space in restorative classes for students to have their experience with stillness and silence. It is not our job to create the "perfect" experience or teach the "perfect" class (what is perfect, anyway?). It is our responsibility to create an intelligent, safe and grounding restorative yoga sequence that encourages rest, and to hold safe space as students experience the art and practice of rest.
Here is an example of a 60-minute restorative yoga sequence that includes props, is curated with grounding shapes, and leaves time for students to rest in stillness and quiet:
Basic relaxation pose
(10 min)
Folded blanket behind head
Bolster behind knees
Rolled blanket behind feet
Side lying pose
(10 min each side)
Blanket or bolster supporting head
Blanket or bolster between the knees
Supported Fish pose
(10 min)
Bolster supporting back and head
Grounding spinal twist
(5 min each side)
Bolster to support torso and head
Blanket between knees
Savasana
(10 min)
With the increasing number of demands and responsibilities we have, many of us (instructors and students alike) are learning how important and beneficial restorative yoga practices are to bring balance to our fast-paced days. Remember that you're offering a wonderful gift to your community by creating space for students to reconnect with themselves and find much needed rest.