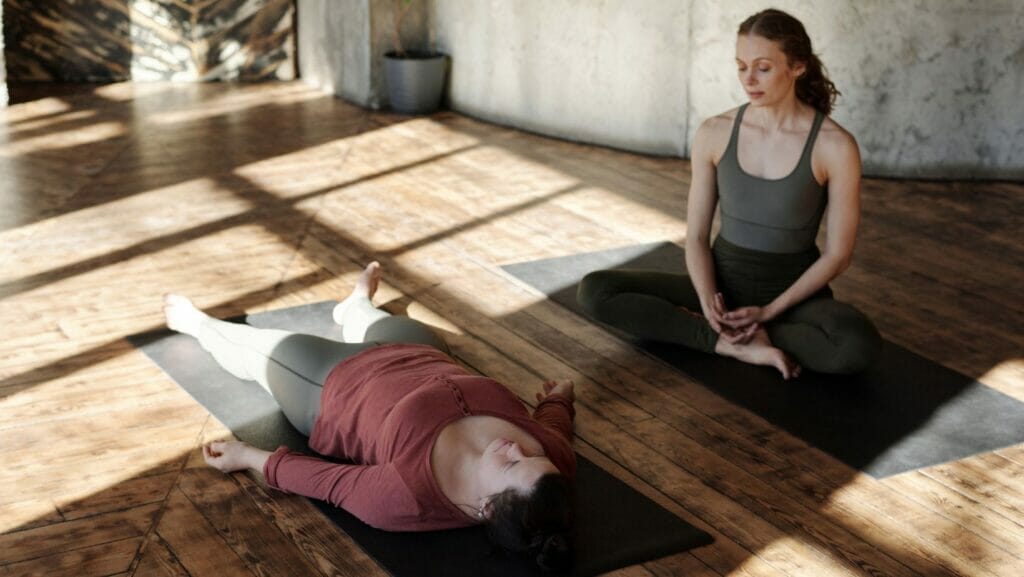 What is the practice of Yoga Nidra?  Yoga Nidra is an ancestral practice that has roots in traditions and philosophies grounded in Hinduism, Buddhism, and Tantrism.  This unique form of yoga provides a journey into the states of matter, consciousness, and the joy of being by combining deep relaxation with attentive awareness, often referred to as the Yoga of Sleep by requiring the student to only listen without attachment.  This state allows the practitioner to explore the states of wakefulness, dream, and deep sleep in a conscious manner.   The practitioner is able to directly observe emotional and mental processes within themselves and understand the processes from a neutral standpoint and in a better way. They are able to let go of stress inducing thoughts and patterns.  
Who would benefit from this practice? Due to these profound effects on relaxing the body, this style of yoga has become an integral part of yoga therapy for anxiety and depression. The practice takes students/clients on a journey through the layers of the Panchamaya Kosha System with a focus on the energetic body, guiding the student through the stages of Yoga Nidra.  The guide leads students on a journey by reading a script that scientifically and in a precise way uses the body to relax the mind allowing deeper consciousness to be accessed while the student is aware. This yoga of the subtle body is accessible to all that are interested since it does not require any particular physical condition or quality.  You do not have to be strong or flexible to practice, you can sit, stand, or lie down depending on your needs.  The practice reinforces joy, happiness, a good night's rest and boosts the immune system while reducing stress, anxiety, and the fear of death.   It is definitely beneficial to add to any yoga routine for anxiety.
What happens in a Yoga Nidra class?  First, the yoga teacher might offer some optional gentle yoga poses or stretches to prepare the body for being still.  Next, you would be guided to settle into a resting posture either lying down, sitting comfortably in a chair, or possibly even standing.  In a yoga studio, you would be provided with props to support you comfortably lying on your mat.  At home, if you're connected with an online studio, you could choose your bed or sofa, it would be up to you.  After guiding you into settling, the teacher would then ask you to bring to mind a heartfelt resolve that you would like to manifest in your life, for example, I am at peace more and more.  Fourth, you will be led through a scan of the physical body that may ask you to systematically tense certain parts of your body or bring awareness to them.  Some time will be spent in the script for you to spend noticing and connecting with your breath.  The Yoga Nidra script may include bringing awareness to felt sensations such as cold and heat.  Fifth, you will be asked to visualize a series of images or maybe go on a short journey to a special place.  Finally, you bring your resolve back to mind and gently come back to the physical body to end practice.  The teacher may share a general script or customize the script to meet the needs of the student.  Classes usually range from 30 minutes to an hour, but shorter classes are also available and still give you the benefits. 
The International Journal of Yoga completed a Yoga Nidra and meditation study on the mental health of college professors in 2018 and their findings reported a substantial decrease in anxiety.  The conclusion states, "Prepost results indicate that both interventions represent an effective therapeutic approach in reducing anxiety and stress levels."  
Yoga Nidra is a useful tool to add to your routine whether you are experiencing significant stress or anxiety or wish to enhance your overall well-being.  It can be part of an already established yoga practice or the only yoga you practice. We hope you give it a try and invite you to check out our weekly Yoga Nidra classes on the MVP live stream! For 200-hour yoga teachers, the Yoga Nidra Certification can be a great additional tool to incorporate into offerings. 
Digital Resource-direct quote:
International Journal of Yoga
https://www.ncbi.nlm.nih.gov/pmc/articles/PMC6134749/
Book resource-general research, no direct quotes:
Yoga Nidra Meditation: The Sleep of the Sages by Pierre Bonnasse